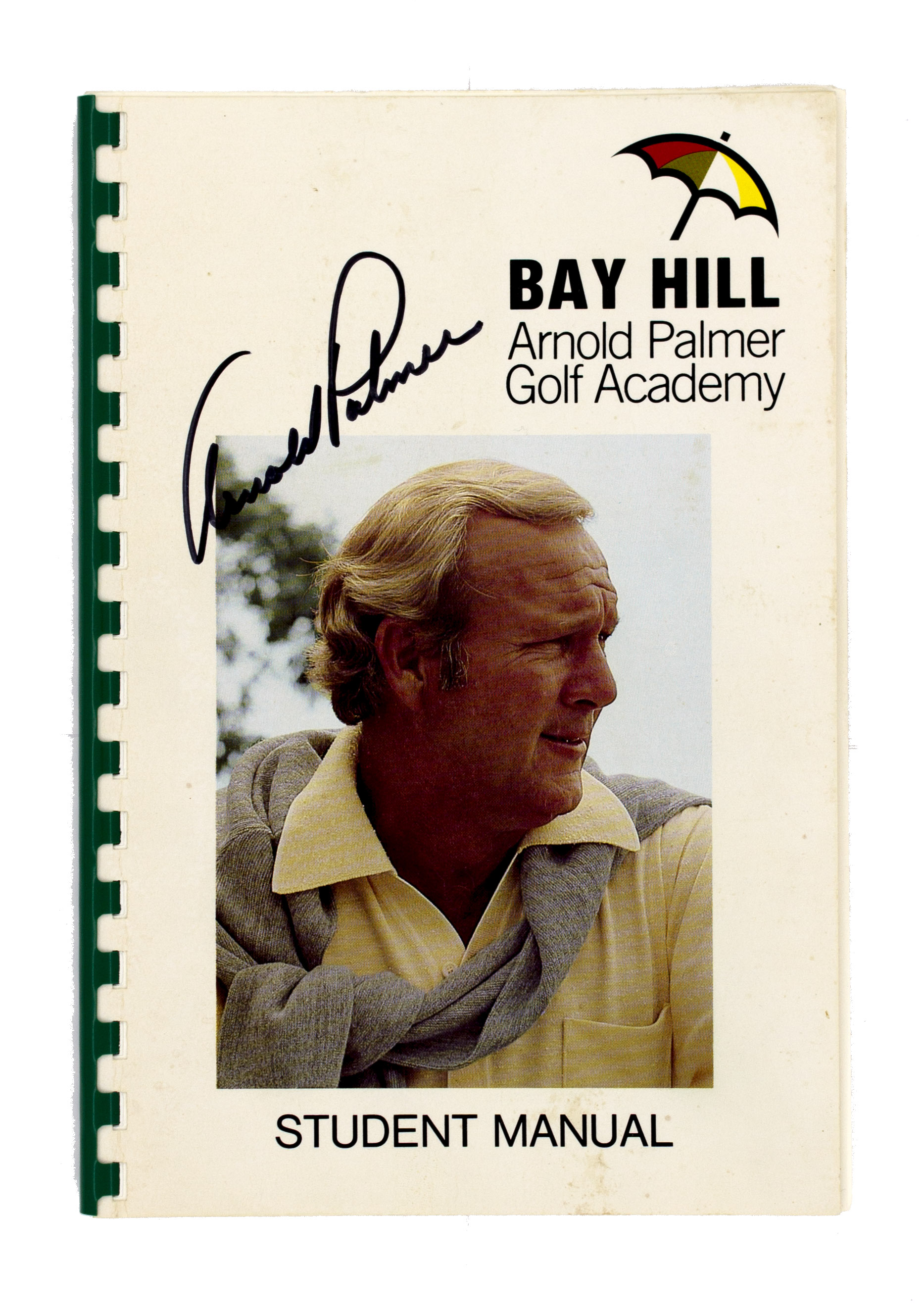 When Arnold Palmer passed away, my son commented "Dad, one of your childhood hero's is gone." I had to reflect on that statement because I grew up with great parents and a wonderful family, so I had childhood hero's all around me. However, Arnold Palmer's influence would mold my thinking about life, work and even a little golf.
My experience with Arnold Palmer started when I was 15 years old. I had the opportunity to attend the Arnold Palmer Golf Academy at Bay Hill. For two weeks, about 50 junior golfers received class teaching, swing training, on-course instruction and nearly unlimited use of the Bay Hill Club golf course. We even stayed in the Bay Hill Lodge. I look back on that experience with nothing but gratitude to Mr. Palmer and the membership and staff of the Bay Hill Club for supporting junior golf.
About 6 years ago, I ran across my old Student Manual from the Arnold Palmer Golf Academy. I was planning a trip to Orlando the week after the Arnold Palmer Invitational. It occurred to me Mr. Palmer may remain at Bay Hill after the tournament and I may have an opportunity to show him my old student manual and simply thank him for his influence on me as a junior golfer.
On a quite Monday afternoon, I passed through the main entrance to the Bay Hill Club. The workers were dismantling the grandstand next to the 18th green where the day before Ernie Els won the Arnold Palmer Invitational. As I drove into the Club parking lot my heart sank because there was not a single car in the lot and the club looked deserted. However, I notice a single golf cart at the edge of the parking lot next to the Pro Shop. On the back of the golf cart was a big staff bag with the name "Arnold Palmer" in bold letters.
Sure enough Mr. Palmer was sitting in the cart, in an empty parking lot without another person in sight. I could hardly believe it. I walked over to Mr. Palmer, showed him the Golf Academy Student Manual from my youth and thanked him for investing in me. In typical Arnold Palmer fashion, he looked me in the eye, thanked me back, pulled out a black felt tip marker and laid down a perfect "Arnold Palmer" signature on my Student Manual.
We wished each other well and I left Bay Hill amazed that I had a personal audience with the "King" and my hero Arnold Palmer.
As a memorial to Mr. Palmer, let's follow his example and support junior golf. A good way to participate is by joining Davis Shore's Birdies for Charity website at Davis Shore's LeadershipLinks Homepage https://www.ajga.org/PIF/HomePages/index2.asp?UID=136468 . Davis will be representing team USA today in the Junior Ryder Cup which is being played before the Ryder Cup later this week.